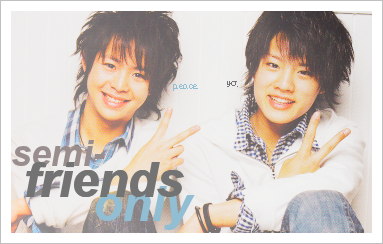 I know it's a little late, but wanna put this up...
Cuz people seems to be not respecting me at alll...
Taking the screenshots that i make, and not even saying a 'thank you'
How rude could that be??

Basically, my screenshots will be f-locked after 1 week i posted in the community...

Personal life will also be f-locked...
So if you wanna add me, please make a comment here, and i will add you guys back...
OH..and also.. Your LJ must at least update sth...
If nth is updated, I will not even accept at all....
I welcome anyone who shares the same interests as me to friend me!
I love HSJ, especially Chinen, Daiki and Takaki, and Yamada.. I m not dedicated.. LOLL..
I like ARASHI too...

P.S/ Please add me first before commenting ne or I won't add you back. I don't want people to ask me to add them and they are not adding me back. And also, if i added you back, and i see you not commenting, i may actually delete you.. Sorry for being so mean....

I really want to make GOOD FRENS out of there.. So let's have a cheerful atmosphere~~~

I copied all these out of Selena's blog...
SELENA!! I'm sorry... Cuz i am out of brain to think of any..
Gomenasai~~~~!!!!
If you disagree, i will delete it straight away!!!!
Also, credits to
asianrave
for the banner!
Current Mood:
bouncy
Current Music: One Love